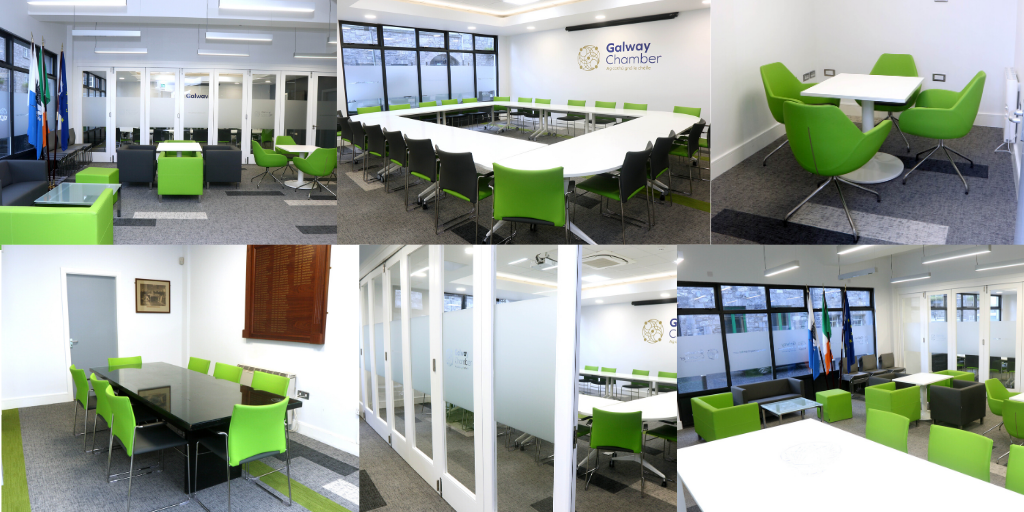 Galway Chamber offers four comfortably furnished meeting rooms, ideally located in the heart of Galway City in our modern offices on Merchant's Road. 
Paying homage to the surrounding landmarks Galway is renowned for, our meeting rooms are christened An Cladach, The Promenade, The Quays and the Blackrock. 
Open to members and non-members, our meeting rooms are the ideal location whatever the need; facilitating intimate private meetings, interviews, conferences and presentations.
The rental and layout of the meeting rooms will adhere to government guidelines at the time of booking and bookings may need to be amended if additional guidance is received by the government, HSE or World Health Organisation. 
Members Rates (exclusive of VAT)
An Cladach Conference Room
Full Day - €130
Half Day - €70
Blackrock Meeting Room
Full Day - €90
Half Day - €60
*Members can avail of our smaller meetings rooms free of charge subject to availability and pre-booking
Non-Members Rates (exclusive of VAT)
An Cladach Conference Room
Full Day - €145
Half Day - €95
Blackrock Meeting Room
Full Day - €110
Half Day - €75
*Non-members can avail of our smaller meeting rooms for a set fee of €30 per half day & €55 per full day
Rates are exclusive of VAT and are subject to the VAT rate at time of booking
For bookings and enquiries please contact Emma O'Reilly:  emma@galwaychamber.com