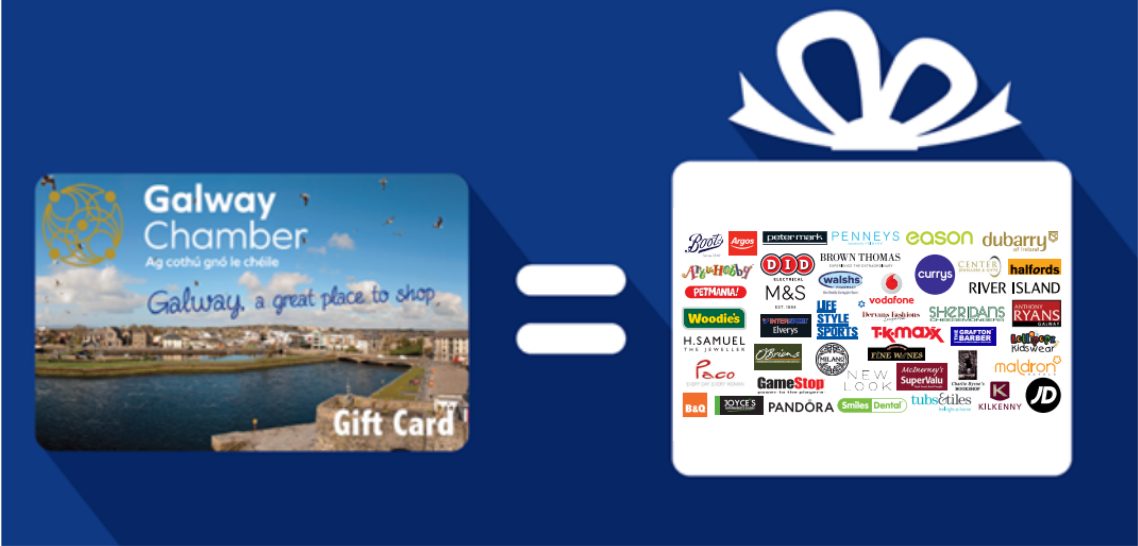 The Galway Chamber multi-retailer Gift Card is the perfect way to support local. This card is accepted in hundreds of retailers across Galway, ensuring jobs and keeping local businesses going in these unprecedented times.
The Galway Chamber Gift Card is operated and managed by One4all.
You can now purchase the Gift Card in the following places:
Galway GPO
Oranmore Post Office
Mervue Post Office
Galway Clinic Shop, Doughiska
Why Purchase a Galway Chamber Gift Card
BIK Savings
Reward your employees with up to €500 in Galway Chamber of Commerce Gift Cards completely tax-free under the Small Benefits Exemption Scheme. Your reward will be exempt from Income Tax, Universal Social Charge (USC) and employee & employer's PRSI, saving you and your employees money.
Motivation
Understand what motivates your employees to drive them to their peak performance. A motivated workforce results in highly productive staff helping you achieve your company's goals. In fact, the Incentive Research Foundation reports that greater motivation can boost performance by as much as 44%.
Engagement
Well-implemented rewards and incentive schemes give employees and customers a reason to engage with your company. Engagement can deliver multiple benefits, but the bottom line when rewarding your workforce is that they will care about your company's performance just as much as you do.
Recruitment / Retention
Well-developed employee reward schemes can be a major factor in a potential candidate's decision to apply for and join your company. When assessing a new job, 61% of people would be more likely to choose an employer that regularly thanks its staff for their efforts*. Once on board, employees who are regularly thanked demonstrate greater loyalty, saving time and money on recruitment.
* One4all Power of Thank You report, 2014
Stature
Companies that reward their staff benefit from better brand reputation. Organisations that regularly recognise their staff are perceived to be more trustworthy, better at treating their customers well and better at being fair.
Inspiration
Inspired employees give their all to their employer, they are constantly striving to be and do their best. This enables them to use their skills and talents to their full potential.
Teamwork
Team-based rewards programmes ensure that employees are encouraged to work together to complete tasks, pooling their talent and utilising each member's key strengths.
The Galway Chamber of Commerce Gift Card is being run and operated by the Gift Voucher Shop, on behalf of Galway Chamber of Commerce. All orders, payments and invoices will be made through the Gift Voucher Shop. The Gift Voucher Shop are the market leading Gift Card company in Ireland and the company behind the award winning One4All Gift Card. Their market-leading gift card products are complemented by their outstanding corporate service, offering companies of all sizes the chance to thank and incentivise their staff and customers with low-cost, highly desirable rewards and benefits.
The Galway Chamber of Commerce Gift Card is issued by GVS Prepaid (Europe) Limited. GVS Prepaid (Europe) Limited is regulated by the Central Bank of Ireland.
The 5th Anti-Money Laundering Directive (5AMLD)
Please Note: The 5th Anti-Money Laundering Directive, taking effect from 10th January 2020, restricts the sale and use of anonymous prepaid cards (including the One4all Gift Card and Chamber Gift Cards) in two key ways:
Classic 'swipe to spend' One4all Gift Cards and Chamber Gift Cards sold after 10th January will be limited to a maximum balance of €150 per card.

Online transactions with a One4all Gift Card and a Chamber Gift Card will be limited to €50 per transaction after10th January.
Any companies that require Chamber Gift Cards for over €150 will need to contact One4All's Corporate Team directly, who can provide multiple Chamber Gift cards. Contact: Patrick Hogan Email: patrick.hogan@bhnetwork.com