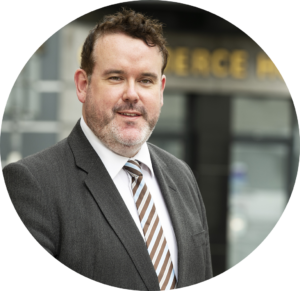 Kenny Deery
CEO
Kenny is Chief Executive Officer of Galway Chamber.
A native of Achill, in County Mayo, Kenny has almost 20 years experience in the Retail Banking sector and most recently served as Regional Engagement Manager for AIB in Galway, serving both city and county. Prior to that, he held a wide variety of roles within AIB serving the business and community sectors. Kenny also has a strong background in Business and Community Development, Innovation and Tourism and has been a board member of a number of organisations in the community and tourism sectors in Mayo and Galway. He has led several business development delegations to the US, on behalf of the Achill local development organisation– Comhlacht Forbartha Áitiúil Acla – and worked collaboratively with a range of state and semi-state organisations on various initiatives for the island. He holds a Corporate MBA from University of Limerick, a range of qualifications from the Institute of Bankers and a Diploma in Marketing and Public Relations from the Irish Academy of Public Relations.
Mary Murphy
Accounts Manager
Mary manages the accounting and Finance functions for the Chamber and is responsible for administrative support for the Chamber officers, council and subsidiaries
Mary also oversees the Certificates of Origin within the Chamber office.
Email: mary@galwaychamber.com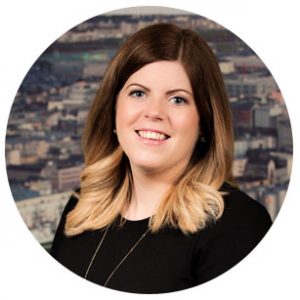 Elaine Murphy
Events and Marketing Manager
Elaine is responsible for developing an engaging programme of events and sponsorship opportunities for the members of Galway Chamber. Her role also involves managing Galway Chamber's communications and marketing activities, ensuring that members' interests and the Chamber are represented appropriately to key stakeholders, government, the business community and the media.
Email: elaine@galwaychamber.com
Colleen Baxter
Membership & Events Coordinator
Colleen is a Galway native with a Bachelor's degree in media through Irish from NUI Galway.  She has worked in the hospitality industry for nearly 10 years, working front of house as an event's organiser and sales executive for the past several years.
Colleen is responsible for the organising and running of the Chamber events throughout the year. She also manages membership, encouraging new members to join the Chamber and ensuring that the needs of the existing members are being met.
Email: colleen@galwaychamber.com
Emma O'Reilly
Marketing & Events Executive
Emma is responsible for marketing and communications activities for Galway Chamber. She manages and is responsible for Galway Chamber's website, as well as producing social media content across all platforms. Emma works with our members to promote their businesses through various initiatives.
Emma holds a Masters in Marketing Practice and a Bachelor of Commerce Degree, from NUI Galway.
Email: emma@galwaychamber.com
Michael O'Shea
Policy & Administrative Executive
Originally from Limerick, Michael came to Galway to study in NUI Galway, graduating with a degree in Economics and Spanish.
Michael plays an integral role in ensuring that the Chamber policies are updated to reflect changes within the organisation and with our members. He is also responsible for providing administrative support throughout the office.
Email: michael@galwaychamber.com