Galway Chamber Business Awards 2022 in association with The Shannon Airport Group are open for entries!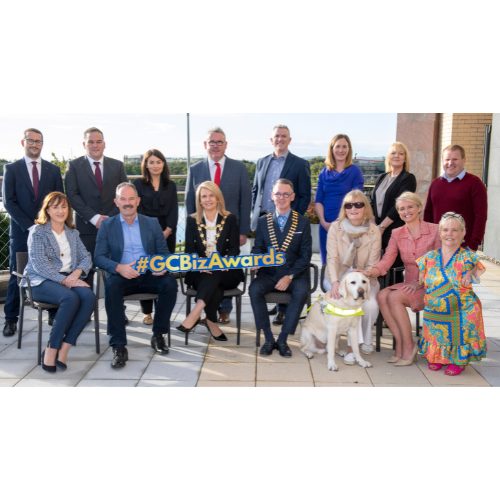 The growing global focus of many businesses across Galway will be among the areas highlighted at this year's Galway Chamber Business Awards. Taking place in the Galmont Hotel on Friday 18th November, the Galway Business Awards 2022, in association with the Shannon Airport Group, will be themed 'Galway: Embedded Locally, Focused Globally'.   
 A total of 10 awards will be presented on the night, including a newly created Culture and Creativity Award, recognising the growing importance of this aspect of life in Galway and to acknowledge those who facilitate the thriving cultural landscape in the county.   
 Another key award, the Scale-Up/ Growing Business Award will recognise younger businesses who are growing and creating jobs at the forefront of enterprise in Galway.   
Announcing the details of the 2022 Awards, Mary Considine, CEO of The Shannon Airport Group said, "We are delighted to once again be associated with the fantastic and innovative business community in Galway. At Shannon, we know that connectivity is critical to enable business to connect with the global marketplace and we are continuing to grow our range of air services to further underpin the economic impact on our region. 
 "These awards provide us with a unique opportunity to acknowledge people who demonstrate vision, courage and ambition to drive both their business and this region forward. They enable us to recognise the positive impact these great businesses have in the community, and we look forward to seeing many of them recognised in November," Ms. Considine said.   
The awards are easy to enter and provide all participants as well as their staff with an opportunity to show their pride in what they do as well as sharing their achievements with other businesses.  Three entries will be shortlisted in each of the categories and these businesses will be featured in all publicity around the awards. 
The prestigious President's Award will be awarded to an individual who has contributed to the business life of Galway that is outstanding in every way.   
The 2022 Galway Chamber Business of the Year sponsored by The Shannon Airport Group will be awarded to one of the category winners. 
To apply, simply complete the application form, available at www.galwaychamber.com. The deadline for applications is Friday, 14th October. 
The full list of award categories for 2022 is as follows: 
 Scale-up/ Growing Business Award
Kindly sponsored by Galway Technology Centre & WestBIC 
Sustainability Initiative Award
Kindly sponsored by Shannon Airport 
Excellence in Innovation Award
Kindly sponsored by EY 
Best Small to Medium Enterprise Award
Kindly sponsored by AIB 
Best Customer Service Award
Kindly sponsored by Permanent TSB 
Marketing Excellence Award
Kindly sponsored by Galway City Council 
Accessibility, Diversity and Inclusion Award
Kindly sponsored by Galway City Council 
Culture and Creativity Award 
President's Award
Kindly sponsored by PwC 
Overall Business of the Year Award
Kindly sponsored by The Shannon Airport Group 
Highlighting the growing number of award categories, Dermot Nolan, President of Galway Chamber said, "The beauty of these awards is that they reflect the diverse and multifaceted nature of business in Galway. There are awards for every hue of enterprise and for all those who are making significant contributions to the Galway business community. Whether it is for newly established companies who are scaling and creating jobs, those who are helping to highlight the innovative nature of the Galway corporate community, those helping to foster the culture and arts or those who are supporting inclusion or sustainability – these awards are set up to recognise the many positive strides taken by our corporate community. There is a lot to cherish about business in Galway and we look forward to seeing that accomplished on the 18th November," Mr. Nolan concluded.  
All of the awards coverage will be included in the Galway Advertiser, the official media partners of the 2022 Galway Chamber Business Awards.