Galway Chamber Pre Budget 2022 Submission
HOUSING, STUDENT ACCOMODATION, TRANSPORT AND PARENTAL EQUALITY AMONG ISSUES HIGHLIGHTED IN GALWAY CHAMBER BUDGET SUBMISSION
The need for local action on issues with national dimensions such as housing and student accommodation shortages, transport, energy and parental equality are reflected in Galway Chamber's submission for Budget 2022.
Actions to address key traffic and transport issues around Galway, including the use of movement alternatives such as bus lanes, cycling and walking as well as a greater utilisation of rail infrastructure are among the recommendations put forward by the Chamber. The development of a double train line out of Galway, increased levels of commuter train services between Athenry and Galway and consideration of a high speed rail network between Galway and Dublin are also included.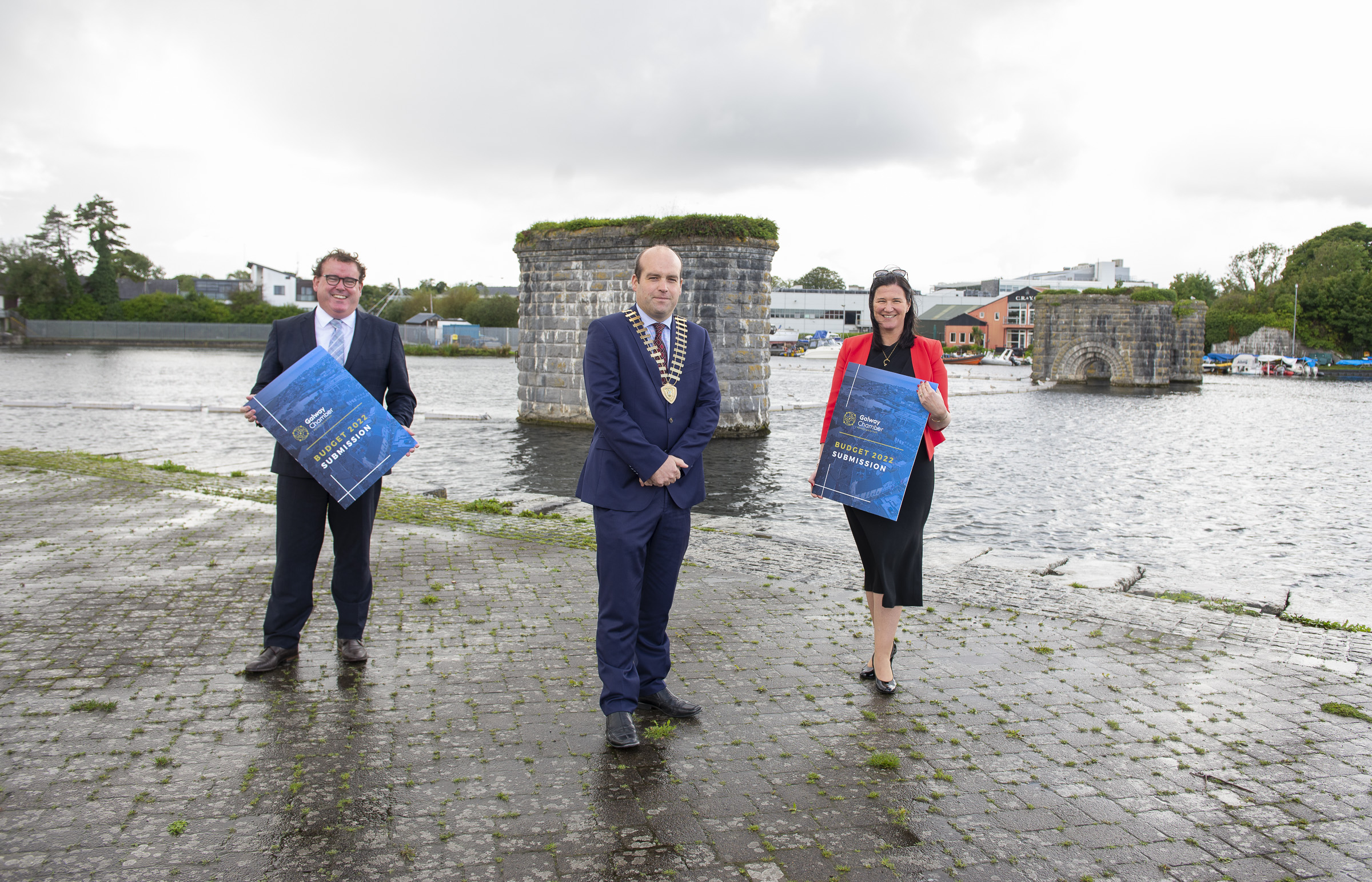 The comprehensive document covers a wide variety of topics of concern to Galway, with the approximately 70 recommendations arranged in line with the Chamber's key strategic pillars: Backing Galway Business, Get Galway Moving, Living: Galway Style, Evolving Galway and Growing in Galway.
Other measures put forward include the introduction of a borrowing framework for third level institutions like GMIT, which will allow it to build its own residences, increasing the level of student accommodation available in Galway.
While the general delivery of sufficient housing stock would be enhanced by the permission of higher buildings and higher density development in Galway's Central Business District. The Chamber also supports the provision of social housing becoming a direct responsibility of Galway City Council until waiting lists are reduced.
Reflecting the modern makeup of society, Galway Chamber is seeking a review of parental leave supports to be undertaken, so that any obstacles to take up of employment can be overcome. This process should facilitate these benefits being extended to members of the LGBTQI+ community.
While looking at energy and climate change implications, there is a specific focus on the utilisation of off shore renewable energy generation and the need to provide strategic investment to the Port of Galway to support it. While the Chamber is also pressing for funding to deliver appropriate levels of flood defence infrastructure around Galway.
Other measures to support the recovery of the tourism and hospitality sectors, post pandemic, feature in the submission - such as the reform of the 'stay and spend' initiative and the VAT rate reduction being extended to the end of 2023.
"Many of the recommendations we have put forward in this year's pre budget submission reflect issues that have a national scope but also carry very localised implications for Galway," said Aengus Burns, President of Galway Chamber. "When it comes to topics like delivering more accommodation or improving energy generation and transport infrastructure, Galway needs urgent solutions if it is to continue its economic growth. National plans require practical activity implemented on the ground. Our submission reflects this and puts forward realistic measures which we hope will be taken on board by the Government," Mr. Burns said.
Kenny Deery, Chief Executive of Galway Chamber also noted the need for a broader focus to this year's Budget, "If the past two Budgets were primarily focused on dealing with immediate problems – namely Brexit and the pandemic – then this year's Budget needs to be about returning to normal business and living. That means addressing the very modern problems that are present around the country and which are particularly obvious to everyone in Galway.
"We need to see practical steps taken that will alleviate the accommodation shortages in Galway, that will ease traffic congestion while enhancing our transport options, that will ensure parental leave reflects the modern makeup of our society. Budget 2022 is the first opportunity for the Government to signal what they want our post pandemic society to look like and we hope that there will be clear measures supporting the progression of Galway included," Mr. Deery said.
Budget 2022 will be announced by the Government on Tuesday 12th October.