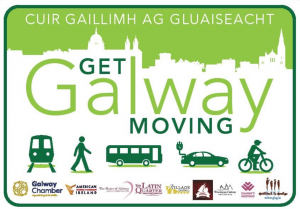 Galway Chamber Presentation at the N6 Galway City Ring Road
On Monday 12th October, Galway Chamber presented to An Bórd Pleanála the reasons as to why the proposed N6 Galway City Ring Road will play a vital role in the development of our city, our county and the wider western region. 
See below script that was used in the presentation by Galway Chamber, accompanied by the above slide deck. The speakers were J.P. Gilmartin, President of Galway Chamber, and Kenny Deery, CEO of Galway Chamber.
Slide 1
Good afternoon, my name is J.P. Gilmartin, I am the President of Galway Chamber. I am presenting to you today with my colleague, Kenny Deery, the CEO of Galway Chamber. We are grateful to have been given the opportunity today to voice the reasons to you all on why the proposed N6 Galway City Ring Road will play a vital role in the development of our city, our county and the wider western region.
Slide 2
This afternoon we will be discussing the background to Galway Chambers support for the Galway City Ring Road, based on feedback we have received from our Members in relation to the proposed vital project, the work we've done to date through our award-winning, nationally recognised communications and policy campaign, "Get Galway Moving", our vision for Galway City and County and the required transport network to support the movement of people and goods throughout the region, now and into the future, and lastly the human and economic implications of NOT proceeding with the Galway City Ring Road.
Slide 3
Galway Chamber has been in existence for over 200 years, and currently represent over 420 businesses employing 25,000 staff.
Our membership covers all strata of business size – from sole traders to companies employing thousands of people. We actively engage in policy discussion - influencing decisions and lobbying on behalf of our members, such as contributing to the development of the Regional Spatial and Economic Strategy. Our mission statement is to "Make Galway the leading location for business, investment and people". From this, stems our work for the interests of businesses, and for the economic development of the city and region.  Delivery of this project is a central pillar of how we see this region develop over the next decade.
Slide 4
Galway Chamber has 5 strategic pillars for the coming five-year period.
These are our areas of focus. Problems with our transport network, congestion, lack of connectivity and high transportation costs for businesses operating in and out of Galway warranted the establishment of a 'Transport Committee' within the Chamber, chaired by Elaine Brick who has years of experience in infrastructure project management and delivery.
This group has undertaken trojan work in their efforts to effect positive change in how we move about our city, county and wider region. This group has a vast range of experience in transport and infrastructure planning and delivery – this group firmly supports the need for the delivery of the Galway City Ring Road, hand  in glove with the full delivery of the other components of the Galway Transport Strategy. One project on its own will not affect the necessary change. The delivery of the whole package is what is needed.
I will now hand you over to Kenny to talk about our members needs and what steps have been taken to try and deliver on those so far…
Slide 5
Thank you, J.P.
Good afternoon Inspectors, fellow presenters and guests.
Feedback from our members is the driving force for us in Galway Chamber. In order to represent them effectively we need to stay close, understand their challenges, remove roadblocks and enable them to seize global opportunities, while remaining local, creating high value sustainable jobs in our region.
Slide 6
There have been seven surveys of our membership in the last twelve months. These examined the critical issues facing businesses. Outside of necessary financial interventions stemming from Covid-19 challenges, the main area of concern that keeps consistently arising, was and is the delivery of the N6 Galway City Ring Road, being highlighted as of critical importance.
Irrespective of what meeting we attend, what zoom call we are part of in Chamber, the first item for discussion continues to be the traffic in and around our city.
Slide 7
As part of these surveys, a task we posed to our members was to indicate how a list of local issues has impacted on their business. Over 81% of respondents stated that traffic congestion had either a 'somewhat negative or very negative impact' on their businesses.
Slide 8
A few comments in relation to the surveys.
Members stated that overall, they are very disappointed with the poor progress being achieved in infrastructure delivery in Galway.
Another issue was traffic management - that there is no measurement of journey times across the city and therefore no focus on its reduction.
The acceleration of infrastructure plans was another area of concern. Along with the outer city ring road, bus corridors and proper cycle lanes, the delivery of other significant infrastructural projects in the city, though welcome, will further exacerbate a challenging situation.
The over-whelming position of our members is that it is critical that Galway prioritises investment in and delivery of, the outer ring road.
To give you an example of some forums / conversations we have been party to.
We held a meeting of representatives of the leadership team of 15 large companies in the medical devices / manufacturing space last September. The theme of the session was on logistics and aviation – how their employees and goods travel globally. On conclusion of a two-hour session, it became clear whatever challenges they have as businesses moving their people and goods around the world, the biggest challenge they have was moving them around Galway. A fairly damning conversation to be part of.
A different example.
I, in recent months was asked to brief the EMEA Europe Middle East and Africa leadership team of a company in Galway employing close to 1,000 people. Their employees have been consumed on the matter of traffic, their base in Parkmore is well known as one of the morning, evening and sometimes afternoon bottlenecks. Many companies are disrupting daily supply chain and employee schedules to stagger the arrival and departure of goods and people, to try and alleviate some of the peak time pressures. They have exhausted all tools within their control to improve matters.
This company I visited were so animated by this issue as it was taking the focus of one of their EMEA leadership calls. The discussion was a brain storm on how they could try and help, possibly employ the services of a private bus company to move their staff across the city, with working desks on the bus so there wouldn't be an opportunity cost to their employees of sitting in traffic. It just became too complicated and it was agreed that no alternate measure at present would have adequate impact.
Their decision for now is not to proceed with expanding further on the Galway site until some light can be shone of delivery of infrastructure for Galway. The proposed Galway City Ring Road is the single solution for their problem. They are one of tens of similar size companies employing over 20,000 people that need this solution on that and neighbouring sites alone.
Slide 9
To raise national awareness and highlight the urgency of Galway City's traffic problem, Galway Chamber launched the campaign 'Get Galway Moving'.
Slide 10
Get Galway Moving aims to influence the stakeholder agenda to significantly improve the sustainability and efficiency of the transport network in Galway.
There are two core parts to our campaign. One is the full delivery of the Galway Transportation Strategy, which will see a much more sustainable city. A healthier city. A low carbon city.  This means encouraging movement alternatives, reducing the need for people to travel with remote/flexible working options, and to increase public transport mode share.
The other part is supporting the Galway City Ring Road, which is a key component of Galway Transportation Strategy. This new road will free road space in the city centre, to enable a shift towards environmentally friendly transport modes, which will in-turn, bring about a sustainable transport and mobility system in Galway City and its environs.
This proposed stretch of roadway from Barna to Briarhill will take the thousands of cars from our junctions and our roundabouts on a daily basis that neither need, nor want to be there.
It's not about one or the other, the vision of the Galway Transport Strategy cannot be delivered without delivery of the Galway N6 Ring Road, which will then in-turn, facilitate delivery of sustainable mobility measures as proposed in the Galway Transport Strategy.
I will now play for you a two-minute video from the 'Get Galway Moving' Campaign which highlights the impact traffic is having on our city, our people and our businesses.

Slide 11
Get Galway Moving Highlights Video
Slide 12
I'll briefly mention some of the key activities of the campaign.
The campaign was launched in Leinster House on the 25th September 2019. We chose Leinster House as the place to start our campaign to highlight that this is an issue of national significance. If we want more balanced regional development, our cities outside of Dublin need the necessary infrastructure.
The campaign has included:
Engagement with key stakeholders - Galway Chamber has facilitated engagement with NTA, Galway City & County Councils, Parkmore Transport Action Group, Bus Eireann, Irish Rail, Gluas, Elected Representatives and representatives from Galway Business organisations; and
Raising awareness within the community through local media interviews and a roll-out of a series of videos (like the one shown to you a few minutes ago) highlighting the key issues on social media.
Critically we are driving home the message this isn't just about business.
Our video's reflect the views of industry,
but also a daughter from Mayo bringing elderly parents to hospital appointments
A college student talking about missing lectures as a result of congestion entering the city and
A mother who would prefer cycle with her kids to school in the morning but it's not safe
These are human stories!
This campaign was recognised at a national level by Chambers Ireland having won 'Most Successful Policy Campaign' at the annual Chambers Ireland Awards this year.

Slide 13
The vision for future development of Galway city as set out in adopted national, regional, and local policy, sets out a clear and significant plan for growth of the city. However, this vision cannot be delivered without delivery of the Galway N6 Ring Road, which will facilitate delivery of sustainable mobility measures as proposed in the Galway Transport Strategy.
Slide 14
Project Ireland 2040: The National Planning Framework (NPF) stresses the importance of regional cities, including Galway, growing by at least 50 per cent to counterbalance the Greater Dublin Area's dominance of economic activity.
The population growth projections for Galway, outlined in the Framework, are for a 50-60 per cent increase by 2040, or an additional 40,000 to 45,000 people in Galway city alone. This projected growth requires accompanying investment in transport networks, particularly given the attempt to concentrate that growth in core cities and centres.
Galway City's population grew by over 20% between 2001 and 2016. There was no increase in the transport capacity during this period and therefore there is a major shortfall in investment to maintain existing travel demand alone!
GCRR is needed to free up capacity on the local road network for the development of sustainable transport infrastructure which will require redistribution of road space.
Slide 15
Galway City has major development potential. The Galway City Ring Road will eliminate through-traffic from the city centre. This reduction in traffic will make development in the city much more attractive.
A number of key sites across the city, shown on the slide, have been identified for development that can be accessed using sustainable modes, will increase city centre commercial and residential density and contribute to our local tourism offering, among others. Some of these sites have received planning permission while others are in the early stages of planning. These developments will have a transformative impact on our city, securing a sustainable future while maximising our economic potential.
Slide 16
The Galway Transport Strategy (GTS) sets out a blueprint for future development of the Galway transport network. A key aspect of delivery of the GTS is delivery of the Galway City Ring Road.
Slide 17
This project will be a vital enabler, not just for sustainable mobility, but for sustaining and growing the local and regional economy.
We in Chamber are working with representative groups from across the region, from the towns of Clifden to Ballinasloe, the villages of Carraroe in South Connemara to Kilmaine just across the Mayo border. There are 72,000 daily passenger journeys in and out of our city, on junctions that are over capacity for what they were designed for.
The opportunity cost, the waste of time, the impact on lives and livelihoods is not just felt in the city, it's felt by these commuters in communities throughout the region. This loop of the city will have a transformative impact for all these people and the next generation.
Slide 18
The Galway City Ring Road is a critical linchpin to the development of a complementary relationship between various transport modes. Without this formation, the existing infrastructure does not have the physical road space to introduce cycling greenways or bus priority lanes.
For many, the GCRR may appear as an anti-environmental method of getting more cars on the road. But the reality is, in order to create a harmonious relationship between cyclists, motorists, pedestrians and public transport, we must invest in a suitable road network that reduces congestion in the city and suburbs and facilitates a complimentary relationship between these groups.
Slide 19
Galway Chamber and the 'Transport Committee' supports and encourages the use of active and public transport in the city and county.
Only last week, we along with Minister Hildegarde Naughton supported the launch of a campaign with the Galway Cycling alliance.
Galway Chamber, like so many in industry, are committed to the delivery of the Sustainable Development Goals; reducing pollution, fighting climate change and building sustainable cities and towns. Achieving Climate Action Plan targets, decarbonising transport and incorporating bus lanes and greenways are central to the metropolitan city we envision. Unfortunately, Galway is suffering from a road space shortage, negating its ability to integrate these initiatives. Limited road space has hampered our ability to deliver key components of the GTS since 2016.
Slide 20
Whilst we can all see the effects of these issues on traffic congestion, the lack of safety for cyclists and the unreliability of public transport, we can easily imagine the exacerbation of these long-existing issues with the addition of 40,000-45,000 commuters over the next twenty years.
By not delivering this project now, we are creating an even bigger problem for the future. I implore you to take a long-term view on the positive impact this piece of infrastructure will have, not just on the city, the county but the wider region.
I want to leave you with one last example before handing back to my President. Many contributing to this hearing will argue that delivery of cycleways and bus connects will be adequate and that this is a beast project. They are missing one key reflection – this is not just about the city, this is about the region and the west of Ireland. One morning earlier this year I was stuck in the daily 5km tailback coming in the Tuam Rd., one of many routes around the city we hear about on AA Road Watch daily – there was a mini bus in front of me and on the back and sides were painted the title "Donegal Cancer Care Bus Charity", we rolled and stopped, rolled and stopped and after about 25 minutes they made 'bother na dtreabh' and another 15 minutes made the Headford Rd., they were turning right onto the bridge clearly heading for the hospital, I was able to come up the inside of them and observe – there were six people on the bus.
Galway Hospitals are seen as a centre of excellence for the wider region. Not alone do these poor souls have cancer, they have to leave Letterkenny before sunrise and make a long journey to Galway to receive chemo and return home – for fear that's not and enough they have to endure our traffic along with thousands of others visiting our four hospitals in Galway on a daily basis.
This isn't just about business, though it has a significant business impact.
This isn't just about economics, though there are significant economic impacts.
This is about the human toll of Galway traffic congestion –
I'll hand you back to my President. Thank you for your attention.
Slide 21
We have spoken a lot about the positive impacts of the Galway City Ring Road, but for a few minutes we'd like to outline the unsustainable future where Galway City Ring Road is not introduced.
Slide 22
We recognise that the Galway City Ring Road cannot solve all of the transportation issues curtailing our city. But it is a central part of addressing these issues. It is a vital cog in the transport mechanism allowing the road network and sustainable transport to coexist.
Slide 23
In the interest of the 420 members we represent, Galway Chamber cannot sit back and allow the uncertain future we see coming without the Galway City Ring Road.
The cost of congestion for commuters stands at €28.3 million per annum, based on the value of time spent commuting. Failure to provide additional road space will inevitably cause this figure to rise.
With many people working from home, we have seen how the time saved on commuting has freed people to exercise and spend time with their families. In addition to the reduced anxiety associated with traffic, this has had enormous benefits for people's health and well-being.
Limited road and public transport capacity will inevitably, introduce city road-use levies, and increase the price of bus and rail tickets, marginalising low-income commuters.
Time lost to traffic risks workers being late to work, the stress caused damages workers productivity. In some industries, punctuality is central to their operations - such as delivery services, appointment-based work, and of course emergency services.
Traffic congestion creates visual, noise and air pollution. The European Environment Agency (EEA) estimates that poor air quality contributes to 1,200 premature deaths in Ireland each year. The most significant pollutant identified by the EEA was particulate matter, which mainly arises in Ireland from traffic emissions, among others.
Maintaining an inhospitable environment such as this could have serious adverse effects for our reputation as a home for families, students and as a technology and biomed hub.
Slide 24
To sustain the projected population growth by 2040 without the Galway City Ring Road, assumes that there would be no further growth in car use in the next twenty years! Given that our road network is already at capacity, this is clearly infeasible.
In fact, there would need to be a reversal of the current mode share. So, while over two thirds of trips within the city at present are by car, by 2040 this would need to reduce to one third or less. Our public transport network would need to accommodate a minimum six-fold increase in patronage.
Achieving this increase within the footprint of the existing road network is simply not credible.
Slide 25
Galway Chamber of Commerce supports the delivery of the Galway City Ring Road.
We are confident that the scheme will:
Enable implementation of the Galway Transport Strategy, which has a transformative vision of transport and sustainable mobility in Galway
That the scheme will sustain and facilitate the economic growth of Galway city and region
That it will strengthen all business sectors, who are impeded by poor connectivity across the region
It will benefit all other employment sectors, through decreasing transportation costs and enabling access to the businesses within the city
We also believe it will deliver additional benefits not currently accounted for in the Cost Benefit Analysis that was undertaken to support this project
That it will enhance the liveability of the city, through its urban regeneration capacity with the potential of improving the quality of space in the city, and
Finally, we are confident the scheme will enable regional development of County Galway and provide more balanced development opportunities like those that have been delivered on the east coast of Ireland for years.
Slide 26
We in Galway Chamber thank you for the opportunity to present our case, not just for our members, their employees, but for our families and the wider community we represent.